Importance of Commercial Landscaping
---
---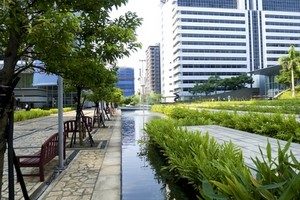 Commercial Landscaping: Why It's So Important for Your Fayetteville Business
Poor commercial landscaping certainly does your business no favors—and oftentimes, shoddy landscaping can result in issues such as a dwindling customer base and demotivated employees. By investing in commercial landscaping for your Fayetteville workplace, you can maintain a successful business with some simple yet effective features:
Well-manicured lawn
Tastefully placed hedges
Healthy, luscious trees
Just what benefits can you enjoy with commercial landscaping services? Just read on, and you'll find out. In this article, we'll look at just three of the most compelling reasons to invest in regular commercial landscaping services. We bet you'll be sold on this service when you learn that it provides . . .
Improved Curb Appeal
Appearances are everything in the customer-service industry, and that makes curb appeal a vital quality for any such workplace to maintain. After all, beautiful curb appeal makes your business stand out beautifully, helping you to attract plenty of customers. If you're looking to give a healthy boost to your business' curb appeal, you can't go wrong with commercial landscaping.
A More Enjoyable Work Environment
Your workplace is where your employees are going to spend a great deal of their time, so if it's an unsightly or unpleasant workplace, their mental state and overall job satisfaction may suffer. This suffering could result in issues such as decreased productivity and work quality. Your employees are the lifeblood of your business, so keep them feeling great and working their best with commercial landscaping that will create a more enjoyable environment.
Increased Property Value
You're in business for one reason: to make money. This means you should strive to make sure absolutely every facet of your business only increases in value—and that includes your property value. Landscaping is closely linked to the increase or decrease in commercial property value, so invest in quality commercial landscaping to keep your property value from plummeting.
Look to Us for All Your Commercial Landscaping Needs
Are you ready to enjoy these benefits yourself? If you are, don't hesitate to get on the line with Ground Pounders Landscaping today. Our landscaping company has a proven track record of providing quality landscaping services to both commercial and residential property in the Fayetteville area, so you can count on us to provide excellent workmanship for all of your landscaping needs.
We strive to provide you with an unbeatable quality of workmanship and customer satisfaction, no matter what service you need. Don't just let us tell you, though; let our customers do some of the talking by checking out our customer reviews page. Take a moment to check out our latest projects gallery while you're at it to see our quality of workmanship with your own eyes.
If you are looking for a landscaping company in the Fayetteville area, please call Ground Pounders Landscaping, Inc at 910-476-1060 or fill out our online request form.