Outdoor Lighting and the Benefits It Has to Offer
---
---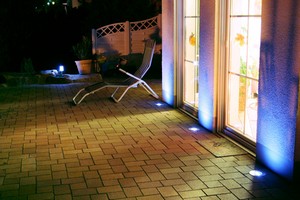 Your home is the most important place in your life. It's an expensive investment as well as the place where you're likely to spend the majority of your free time, so you need to give it the best care you possibly can. With that in mind, you'll find some of the best care you can get for your home is professionally installed outdoor lighting design.
After all, outdoor lighting offers a wealth of great benefits for your home in Fayetteville, and you'll be able to enjoy these benefits for many years to come. Want to learn more about the ways that this great installation can benefit your home? No problem: Just keep on reading, and this handy guide will tell you what you need to know!
Better Safety
Your home should be a safe haven for you and your loved ones. This means you need to keep yourself safe from prowlers and other unwanted guests, and a great way to do that is to get landscape lighting. By dispelling dark corners, landscape lighting will deter these shady characters, helping to keep your home as safe as can be.
Increased Curb Appeal
At some point, you may want to put your home on the market, and when that time comes, you'll probably want to get it sold as quickly as you can. To do that, you need to attract the right buyers by boasting plenty of curb appeal. With its beautiful look and bevy of design choices, landscape lighting will give your home a huge boost to its curb appeal.
Higher Property Value
What's the point of getting your home sold if you can't get it sold for a very nice profit? There would be no point, so you're going to want to take steps to increase your property value as best you can before listing your home. A great way to give your home's resale value a healthy boost is to get beautiful and practical landscape lighting.
Entertainment Benefits
While you live in your home, though, your main concern is going to be simply making it a great place to spend your time. For that purpose, you can't go wrong with landscape lighting. Allowing you to enjoy your home's outdoor area after the sun goes down, landscape lighting will help make your house a great place for outdoor parties and cookouts.
Call Our Fayetteville Landscaping Company Today for Your Outdoor Lighting Needs
If you're ready to enjoy all the great benefits that outdoor lighting has to offer your Fayetteville area home, you need to call the pros at Ground Pounders Landscaping today. Our experienced landscaping company offers quality work in a timely manner that will have you enjoying all of these great benefits in no time.
Latest Projects
Landscape Lighting Project in Godwin, NC
If you are looking for a landscaping company in the Fayetteville area, please call Ground Pounders Landscaping, Inc., at 910-476-1060 or fill out our online request form.